Rookies
Gift Cards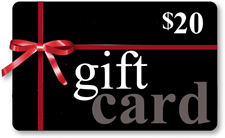 If you already have a Rookies gift card and would like to check your balance please follow the link below.
A Rookies gift card is the perfect choice for that someone special. You may purchase gift cards in any denomination at all four of our locations.
So whatever your occasion or holiday may be, let the Rookies help you make it GREAT! For more information, contact us by selecting the location you would like to purchase the gift card from below.